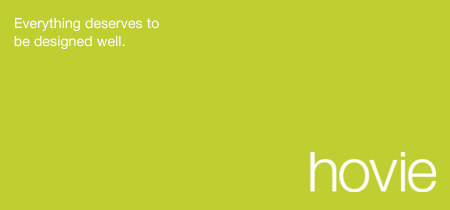 Studio History
1998-1999
Design Hovie Studios began as Hovie Hawk Design in the basement of Hovie's Seattle home in 1998. Opened as a small, local, print design firm, within a few months, Hovie began to see a tremendous increase in web design work and by the end of the year his web and print projects were demanding equal time. View 1998 Web Site
1999
In early 1999, Hovie Hawk Design became Design > Hovie. Hovie saw increasing volumes of web and print design work, along with a steady increase in larger, corporate clients. Additional staff was hired and Hovie moved the company into an actual office in the Ballard neighborhood of Seattle. View 1998-1999 Web Site
2000-2001
At the end of 1999, Design > Hovie officially became Design Hovie Studios, Inc. The firm continued to grow landing still larger clients and projects. Awards and recognition followed and in September of 2000, Hovie was approached by European digital agency Winsome Italia about forming a partnership. In January of 2001, Design Hovie Studios and Winsome Italia formally agreed on a partnership and the studio opened its Milan, Italy office while maintaining a scaled down presence in Seattle. View 1999-2000 Web Site
2001-2002
From 2001-2002, Hovie created primarily interactive media for European clients. Late in 2002, the decision was made to create a greater balance between its printed and digital work, and between its European and American clients. To facilitate this, Hovie entered into a new partnership with Qwentes Italia of Milan. The Studio increased its focus on the US market and began to build up its Seattle office. At the same time, with Qwentes, the firm continued to grow its European client base. View 2000-2001 Web Site
2002-2004
Based on the strong portfolio of web work done in Italy, work during these years was made up of 75% web sites and 25% print design. View 2002-2004 Web Site
2004-2006
Hovie began to see a shift toward more traditional print based graphic design. There was a large increase in brand identity projects and print collateral. In turn, work load evens out at 50% web sites and 50% print design.
2006-2008
Hovie continues the relationship with Qwentes Italia and adds Bear Group as a working partner. The Studios begin to focus exclusively on design and use partners, Qwentes Italia and Bear Group, for the development of web sites. This refined direction allows the firm to expand services and branch out in to label and package design, in addition to brand identity, print collateral and web site design.
2009-2012
Although Design Hovie Studios maintains a good mix of small, medium and large clients from all over the world, the studio's strategic focus is based on creating logos and building brand identity systems and associated collateral for small businesses in the USA and Italy. The firm's strategic alliance partners include: Qwentes Italia and Bear Group.
2013-2015
Hovie moves Design Hovie Studios from their longtime home of Ballard, to the Phinney Ridge neighborhood of Seattle. The new studio provides a greater street presence and gives Hovie's clients a more central location (close to I-5 and Hwy 99). Hovie also opens a satellite studio on the south shore of Lake Chelan that is used May through September.